Vortex Inland Championships at Rutland Sailing Club
by Vortex Class Association 26 Sep 16:33 BST 15-16 September 2018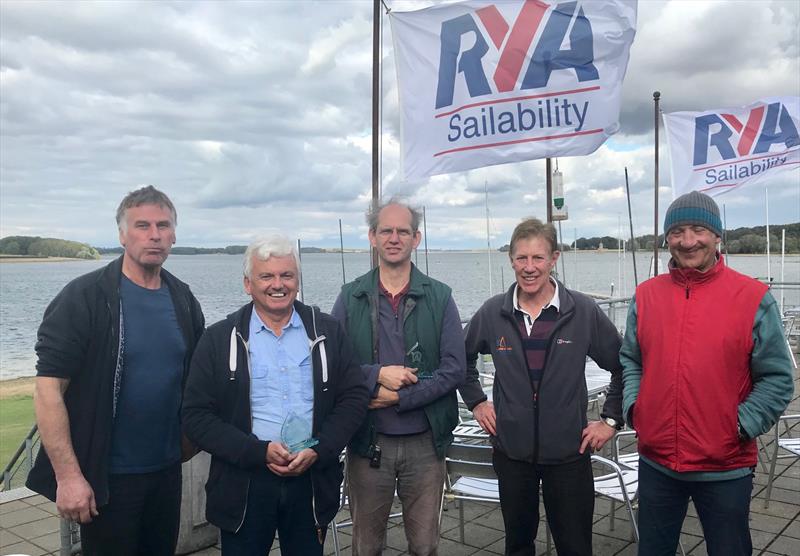 Because of the hurricane forecast a slightly reduced number of vortexes, from Scotland, Yorkshire and London attended the Inland Championships at Rutland SC. As it turned out we had great racing in force 2-4 with blue sky and warm temperatures.
Racing was tight throughout the weekend, but Saturday belonged to Phil Whitehead with two bullets and a second, close to a very quick Alec Glendinning in the last race. Jonathan Carter was always a threat with two seconds and a third in the last race.
The fleet retired to the Wheatsheaf for a welcomed evening meal, subsidised by the class association, when the AGM was conducted between courses.
Sunday's wind built through out the day. The lighter weather suited Jonathan and he pipped Phil for the win of the first race. The increasing wind in the second race suited Phil who won form Angus who was starting to get his mojo back. Mick Collins had always good speed upwind, just needs to get to grips with the tactics, especially near the finish.
Phil eventually realised he had the win secured and following a bout of cramp (its a age thing!) decided to go for an early bath, leaving the last race for Alec to win by a good leg. Angus followed in second place Only one point separated second, third and fourth.
Great race management by the new PRO and team, we never have experienced such quick turnarounds (barely time to eat the chocolate!). Great racing from a great club and very enjoyable weekend.
Overall Results:
| Pos | Sail No | Helm | Club | R1 | R2 | R3 | R4 | R5 | R6 | Pts |
| --- | --- | --- | --- | --- | --- | --- | --- | --- | --- | --- |
| 1st | 1218 | Phil Whitehead | Yorkshire Dales SC | 1 | 1 | 2 | 2 | 1 | (DNC) | 7 |
| 2nd | 2014 | Jonathan Carter | Rickmansworth SC | 2 | 2 | 3 | 1 | ‑5 | 4 | 12 |
| 3rd | 1181 | Angus Winchester | Castle Temple SC | 3 | 3 | ‑5 | 3 | 2 | 2 | 13 |
| 4th | 1175 | Alec Glendinning | Alandale SC | 4 | 4 | 1 | ‑5 | 4 | 1 | 14 |
| 5th | 1117 | Mike Collins | Yorkshire Dales SC | ‑5 | 5 | 4 | 4 | 3 | 3 | 19 |