The Vortex Nationals and Northern Championships at Yorkshire Dales SC pulled 12 entries from all sides of the UK for a great fun packed event. But for Jonathan Carter and his new Vortex after a driver bumping his boat and trailer just 10 miles from home meant borrowing a spare one was not going to stop him attending. Following the weather forecast and a possible lack of wind for Sunday the RO planned an additional race for day one.
A gentle F2 wasn't quite trapezing conditions so playing the shifts was a must throughout the day with more snakes and ladders to follow. To the windward mark it was Neil Spink from Jonathan Lister and Angus Winchester, Lister passed Spink on the down leg with Winchester loosing out to Jonathan Carter in the borrowed boat and Alec Glendinning.
Lister pulled well clear to finish 1st with Spink second and Glendinning 3rd with John Turley closing quickly. All eager to be quick away for race 2 brought the first and only general recall all weekend. Lister leading at the top and Andrew Straton, Spink, Phil Whitehead after crossing the start line last, Winchester and Carter battling closely. Lister continued on for the win while Whitehead improved to second and Spink third.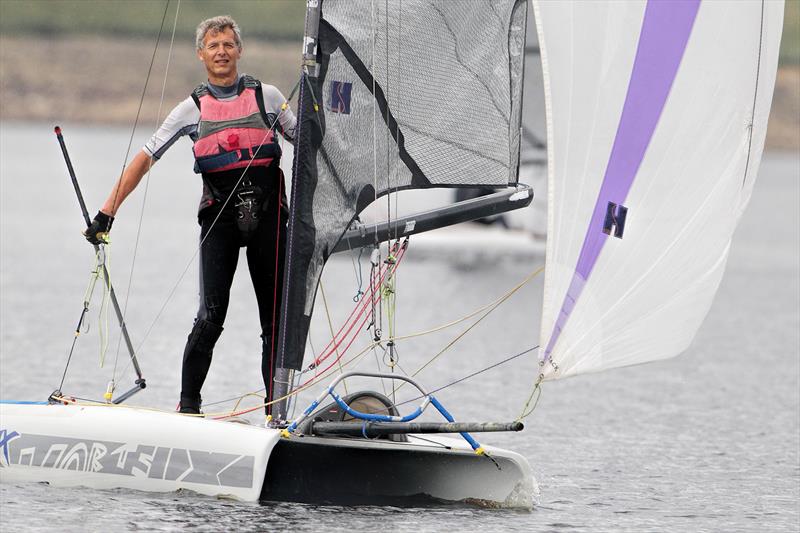 A quick break for the sailors and a few adjustments on course was needed before race 3. This time it was the improving Whitehead to lead with Winchester, Glendinning, Spink and Lister but Lister wasn't letting the boats spoil his run passing them all down leg. Spink was close and Carter third. Up down and more changes but Lister had a clear win from Spink and Glendinning pinching third from the others.
Wind dropping slightly on race 4 but a good split after the start saw and even race with Winchester first tacking off onto port and lifting with full trapeze eased him well into a good lead at the top. From the other side it was Ed Corteen second and Turley third. At the bottom both Turley and Lister passed Corteen. Winchester increased his lead but a drop in wind on the final leg as all three went in different directions Winchester couldn't hold on to Lister then Spink at the finish.
After that the overnight leader Jonathan Lister with 4 bullets and in great form. Neil Spink second and John Turley third. The fleet moved the pub in Appletreewick for a well deserved meal and refreshments courtesy of the association.
Sunday morning arrived with little wind. The RO postponed the race till a f1-2 arrived. As with Saturday it was snakes and ladders of who will be leading after each leg. Winchester lead for a lap before Lister went on with his dominant form to win. Turley, Whitehead and Glendinning finishing off the top five.
Race 6 Whitehead finally had a lead and was this the chance for the chasers to gain on Lister after he snagged the excess mooring line and letting some through. Not slowing him enough, Lister pulled past Whitehead for a short while till Whitehead upped the pace for the win with Lister second and Turley third. After lunch there was a slight course change with the wind looking better. Slightly shorter legs was going to keep them busy with 5 laps on the cards. It was Lister back to winning ways picking up his 6th bullet.
The battle for second was a clincher after each leg with Spink grabbing a very close finish from Whitehead, Winchester and Carter. The final race 8 and only second place up for grabs another fantastic race but Carter with the borrowed boat lead from the start to finish but did he have to work for it. The closest race all weekend and flying asymmetric into the leeward mark was all professionally done. Whitehead took second from Lister, Spink and Winchester fifth.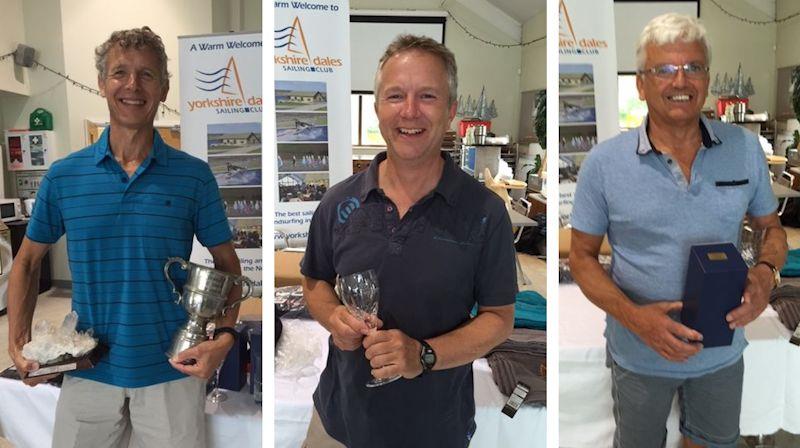 A dominant well sailed event with 6 bullets for Jonathan Lister and new 2016 National Champion. Second was Neil Spink just holding off Philip Whitehead by one point for third, creating a Yorkshire Dales SC top three. From beginners to masters the Vortex brings close fantastic racing for all. The next Vortex GP event is at Rutland for the Inlands in October.
More great photos of the event here; Vortex Nationals 2016 Photos - Paul Hargreaves
Top 5 results:
1. Jonathan Lister, Yorkshire Dales, SC 6 points
2. Neil Spink, Yorkshire Dales SC, 15points
3. Phil Whitehead, Yorkshire Dales SC, 16 points
4. Angus Winchester, Castle Semple SC, 26 points
5. John Turley, Yorkshire Dales SC, 27 points