It was four seasons in one day for Vortex winner Philip Whitehead at Largs this weekend (May 21st-22nd). From strong gusting winds to basking sunshine, a downpour and thunder thrown in for good measure, the weather kept the Vortex sailors busy for a great weekend's racing at Largs Sailing Club in Ayrshire. Joined by the D-Zero fleet, the Vortexs' inaugural 'Extreme Northern' Event was such a success that plans are afoot already for a repeat next year, and with three of the top Vortex sailors entered the racing was always going to be close.
At the other end of the field new start Nick Fleming made his debut to dinghy racing in his recently acquired Vortex. With Fleming's overall dinghy sailing experience still measured in hours the front runners ran rings round the sailing novice but thanks to some kindly and enthusiastic expert advice from the rest of the Vortex fleet it was a different affair on day two and Fleming is now well set-up to make more progress at the upcoming Vortex Nationals at Yorkshire Dales in July.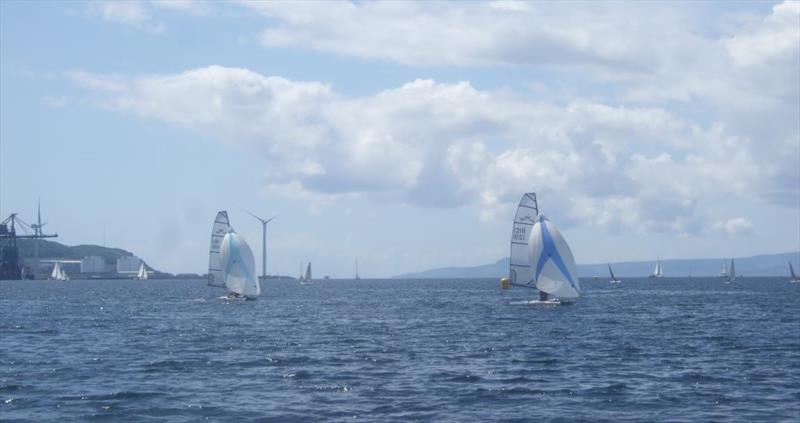 With mixed weather on the Saturday, local man Angus Winchester could be accused of having insider knowledge of the conditions after stealing a win in race 2 from Whitehead even with a tangled set of sheets on the last downwind leg. The top three were never far apart though and there was little to choose between them on the beats. With assymetrics up Winchester opted to take the opposite side of the course to his challengers but occasional wind shifts kept the racing close right up to the finish line. With Winchester and Whitehead taking the Saturday wins, Jonathan Carter, the 2015 Vortex National Champion, was third overall heading into day two. A sunny and calm day forced the Vortex sailors to employ various light wind tactics and Carter made up for a lack of Saturday race wins by being first across the line as the racing resumed. He then followed this up with a second to Whitehead in the next race. An incredibly close finish between Whitehead and Winchester on the final race of the day meant Whitehead was the winner by two points and Carter leapfrogging Winchester to finish second overall. The light winds stopping play early to allow prize giving to be enjoyed on the sunny clubhouse balcony of the very helpful Largs Sailing Club.
The Vortex fleet will race next at the Yorkshire Dales Club on July 23rd-24th for the National Championships.
Overall Results:
1st Phil Whitehead Yorkshire Dales S C
2nd Jonathan Carter Rickmansworth S C
3rd Angus Winchester Castle Semple S C
4th Nick Fleming Scottish S C